Comments from Mr. Yoshikazu Yasuhiko
Through the production of "MOBILE SUIT GUNDAM THE ORIGIN," I became involved with anime again for the first time in 25 years – a quarter-century. "Chronicle of Char and Sayla" which is now being animated, is a "prequel" to the foundational "MOBILE SUIT GUNDAM" (First Gundam), and is also a completely original part of
"MOBILE SUIT GUNDAM THE ORIGIN".
As such, it is the part to which I feel most strongly attached. I thus thought that if it were going to be animated as an OVA, I might be able to get involved, and decided to take on tasks such as main character design and storyboarding.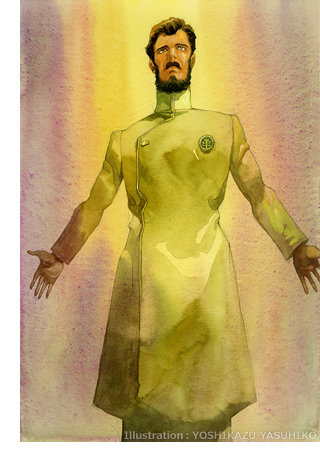 During my long absence from the anime world, animation production had become very different. It is now completely digital, and full of surprises and curious things for me. On the other hand, some aspects of it remain mostly unchanged. I believe I am still very capable of contributing in those areas.
I was really quite nervous when I started drawing
"Chronicle of Char and Sayla"
as I was to depict parts of the story which had previously remained untold. However, I received a lot of positive comments, and I now think it was a good idea.
During the anime production, capable staff members are examining the work and enriching the story settings with their many ideas. Nonetheless, my original manga remains the basis of the work. Now I feel even more confident about this "prequel" to Gundam that I created.
The infusion of new talent and technology, as well as the effort and work of many people, is now transforming
"MOBILE SUIT GUNDAM THE ORIGIN"
into an excellent animation. As they enjoy this process, I sincerely hope that everyone will feel the "depth" of "MOBILE SUIT GUNDAM" (First Gundam) once again.